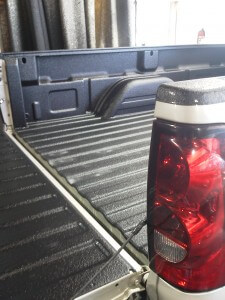 Ultimate Linings is the worldwide leader in sprayed-on polyurethane linings for truck beds, trailers, boats, Jeeps®, and RVs.
For more than 12 years, Ultimate Linings has been providing vehicles with a thick layer of protection under the most rugged conditions. The unique flexible and textured surface reduces cargo slippage and will not crack, warp, or peel even under temperature extremes.
Sprayed on up to 1/4″ thick (or any desired thickness), Ultimate Linings forms a permanent, airtight, and watertight seal when sprayed directly onto the bed.
Truck Bed Liners
For work or play, your trucks and equipment take a beating every day. Make them last with Ultimate protective coatings. Whether you are investing in a new truck or looking to add life to your existing truck, trailer, RV and equipment, Ultimate Linings is a proven solution. Ultimate advanced protection resists most chemicals, shrugs off abrasion and impact, and protects against rust and corrosion.
Rocker Coatings and Replacements
Renew the look of your truck, while maintaining your vehicle's value.
Replace and recoat your rockers and cab corners of your pickup, Van, or SUV.
We will plasma cut out your old rockers, and replace them with new skin inserts.
We provide a high quality alternative for people and their wallet. The cost to replace and recoat with a much stronger material, at half the cost of most body shops.
Call today for a free estimate.
Come see how Linings of Eau Claire can give your vehicle new life.
Service Body
UTVs
Truck Rocker Panel
Tow Truck Body
Tube Rails
Medical Equipment
Truck Interiors/Rocker
Fenders
Trailers
Containers (Before & After)
Contact Us Today With Any Questions ~ Phone: 715-829-0166