Ahead of the curve
AVS designs and manufactures the most functional, stylish and affordable automotive accessories for trucks, SUVs, CUVs, vans and passenger cars. The product line includes the following categories: Ventvisors/side window deflectors, hood shields, light covers, exterior accessories, scoops, vents, and decals. Contact us at Linings of Eau Claire LLC to learn more about the shields, lighting products, towing parts, and other accessories we carry for drivers in Eau Claire, Altoona, Bloomer, Chippewa Falls, and Menomonie, WI.
---
AVS Aeroskin™
The perfect protection and finishing touch
The AVS Aeroskin™ hood shield is perfect for those seeking a non-obtrusive designer look for their truck, SUV or car. The hood shield, designed to flow with the contours of your vehicle's hood, creates a sleek, stylish profile, flush mounting to your hood. Custom-molded and made in the USA, the AVS Aeroskin is precision-engineered to fit your vehicle's hood perfectly. The shield's low profile hugs the surface skin-tight providing excellent protection from the hazards of the road. The shield's durable yet flexible acrylic material makes this accessory wear-and-tear resistant as well as car-wash-safe. The hood shield is available in a smoke or chrome finish.
Features of the AVS AeroSkin hood shield:
Contours and flush mounts for skin-tight fit to the hood
Unmatched protection for the hood
Sleek, stylish — aerodynamic appearance
Lowest profile on the market
Virtually indestructible
Available in dark smoke or chrome finishes
Custom-molded, sleek design follows body lines
Car wash safe
Easy, no-drill installation
Covers over 180 different vehicles
Proudly made in the USA
Limited Lifetime Warranty
---
AVS Aeroshade™
Aeroshade Louvered side window covers add a distinctive look to extended cab pickups and 2 door cars
Each part is custom styled for your vehicle
Increases privacy and reduces interior temperature and damage from harmful UV rays
Can be painted to match your vehicle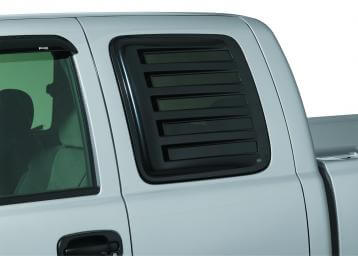 ---
AVS The Original Ventvisor™
AVS invented the Ventvisor™ and offers the most vehicle coverage
Our "Original" signature Ventvisor or side window deflector is made in the USA and precision-engineered for an exacting fit to the broadest range of vehicles on the market today. AVS Original Ventvisor's customized design mounts in minutes to the outside of your vehicle using pre-applied 3M adhesive mounting tape applied above and around your windows. It's a quick, no-drill installation to create a perfectly snug and secure fit – completely safe for car washes too!
Keeps fresh air in and the rain out
The Ventvisor also referred to as a side window deflector, window shade or rain guard, allows fresh air to naturally circulate through open windows while keeping the rain out. Additionally, the product keeps the sun out of your eyes, enables fresh air circulation to eliminate stale, smoky air and allows you to keep your window cracked while parked, keeping the interior cooler. Now, you can truly enjoy the fresh air and whatever nature sends your way!
Great coverage and quality manufacturing
AVS offers the most comprehensive Ventvisor vehicle application coverage for trucks, SUVs, CUVs, vans and passenger cars. All AVS Ventvisors are made of a higher-grade acrylic material than most, which means they hold their smoke black color and are just the right thickness to be strong yet flexible for a perfect fit.
Best-selling line and backed by Lifetime Warranty
The AVS Ventvisor line is the best-selling line throughout North America. A Lifetime Warranty protects your AVS Original Ventvisor or Side Window Deflector. Get a set today and start enjoying exterior style and constant fresh air right away!
---
AVS Sunflector®
The Sunflector shades the rear of your pickup cab from the glaring sun.
Helps reduce heat buildup inside the cab
Fits cabs with or without sliding windows and vehicles with or without cargo lights
Installs easily without tools, using strong automotive grade tape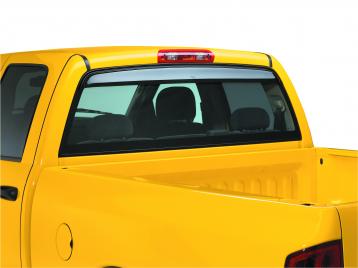 ---
AVS Windflector®
The Windflector greatly reduces sunroof wind noise and air turbulence
Prevents the rain from entering the sunroof opening while driving
Installs quickly and easily with strong automotive grade tape – does not require drilling holes in your vehicle's roof
Helps reduce heat buildup inside the vehicle

Husky Liners
Founded back in '88 and based in Winfield, Kansas, Husky Liners® proudly makes automotive aftermarket products designed to protect your ride inside and out.
At the core of our wide product line is the Husky Liners® brand of custom-fit floor liners, including front seat, rear seat, and cargo area. We also manufacture heavy-duty floor mats, custom molded mud guards, and a wide assortment of quality products designed to help extend the life of your vehicle.
All products are designed and manufactured in the U.S.A. and most come with a hassle-free, lifetime guarantee.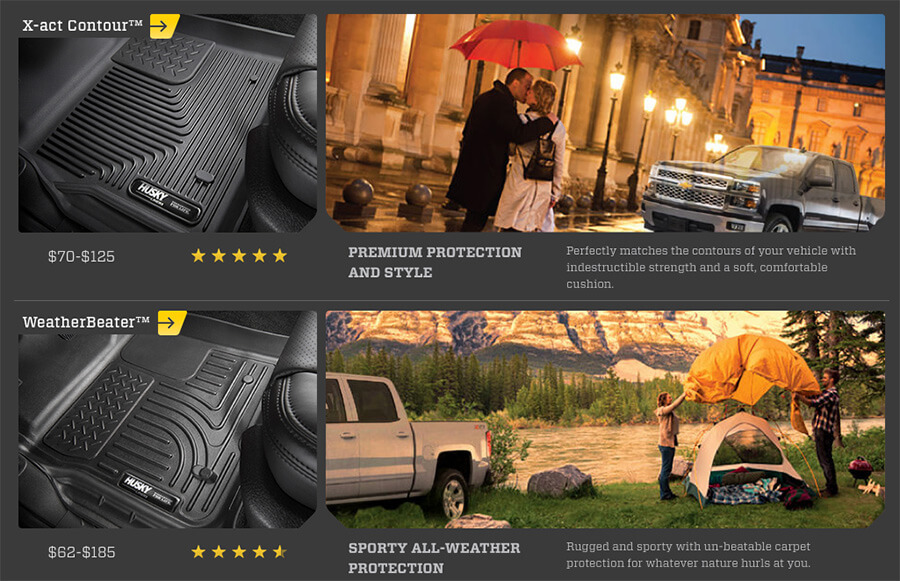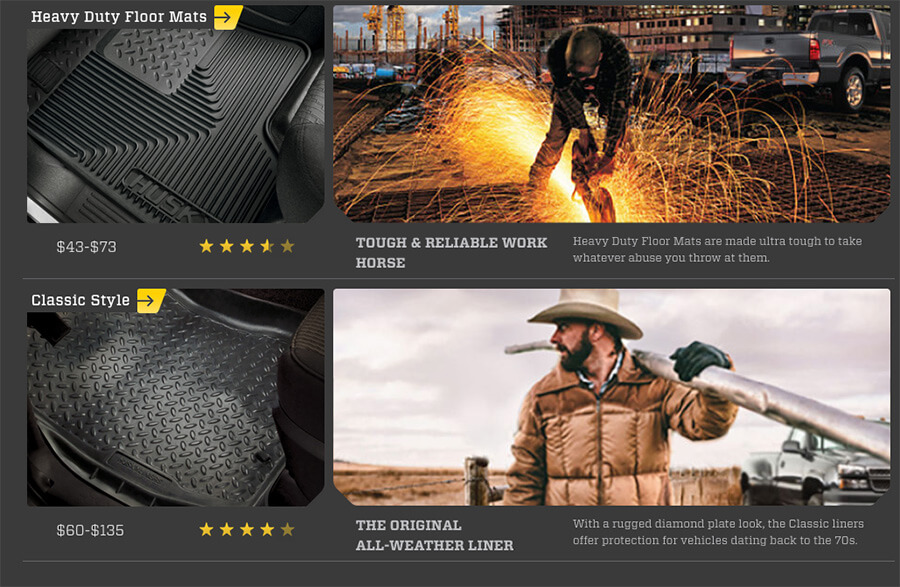 Industry Leader in Vehicle Accessories
Since 1989, MacNeil Automotive has been providing the best in automotive protection and vehicle accessories. Our WeatherTech® brand has been servicing the world with top-of-the-line vehicle protection, setting the industry bar higher and higher. We favor the American Economy and work hard to stay adamantly aware of sustainability and environmental best practices. Our investment in revolutionary technology ensures a superior product quality for our customers and reflects our commitment to excellence in everything that we do. We want to ensure that we provide only the best in customer service, and that starts with quality products and processes.
---
FloorLiner™ DigitalFit®
In the quest for the most advanced concept in floor protection, the talented designers and engineers at MacNeil Automotive have worked tirelessly to develop the most advanced DigitalFit® floor protection available today!  Digital laser measurements of interior surfaces offer a consistently perfect fit. A patented tri-extruded composition allows for a rigid core for strength while offering surface friction to the carpet, as well as tactile feel to the surface. The FloorLiner™ advanced surface design has channels that carry fluid and debris, away from shoes and clothing, into a lower reservoir. The lower reservoir uses additional channeling to minimize fluid movement while driving. Once fluids become trapped in the reservoir, they are easily removed from the WeatherTech® FloorLiner™ over the door sill…No muss – No Fuss!
---
All-Weather Floor Mats
Premium Floor Coverage
The WeatherTech® All-Weather Floor Mats are made out of an odorless compound, that have deeply sculpted channels designed to trap water, road salt, mud, and sand.  Our proprietary engineered resin ensures that these mats will not curl, crack or harden in sub-zero weather.
Our All-Weather Floor Mats also have anti-skid ridges to prevent shifting in your vehicle and come with a protective, non-stick finish to make cleanup quick and easy.  WeatherTech® All-Weather Floor Mats meet FMVSS302 and are manufactured to ISO 9001 standards, your assurance of quality.  Choose from Black, Tan or Grey to complement virtually any interior color.  Rear mats are designed to be trimmed so that they may be customized to fit almost any vehicle.  Please take your old floor mats out before installing your new WeatherTech® floor mats.  All-Weather Floor Mats were intended to give the best possible protection for your vehicle floor.  Many of our front mat applications are vehicle specific, while others are determined to be the best possible fit for the application from our many shapes and sizes.  Please note that the on-screen color representations are not necessarily precise representations of actual product colors due to variance in monitor calibrations.
---
Cargo Liner
WeatherTech® Cargo Liners provide custom trunk & cargo area protection. All cargo liners feature a raised lip to keep spills, dirt, and grease off your vehicle's interior.
Made from a proprietary custom blended TPE that is not only wear resistant, but also remains flexible under temperature extremes. The WeatherTech® Cargo Liner features a textured finish which helps to keep cargo from shifting and is perfect for hauling just about anything from gardening supplies to construction materials to the family pet. Protect your investment with a WeatherTech® Cargo Liner. Quality built in America, WeatherTech® Cargo Liners meet FMVSS302 standards.  Choose from Black, Tan or Grey to complement virtually any interior color.  Available for car trunks, minivans, crossovers, and SUVs.
All WeatherTech® Cargo Liners Offer:
Interior protection from all types of wear and tear
Custom molded specifically for your vehicle
Easy installation
High outside lip helps contain spills
Quick and easy cleanup
A skid-resistant surface
Protects and preserves the cargo area and trunk carpet
Engineered for toughness and durability
---
Side Window Deflectors
WeatherTech® Side Window Deflectors offer fresh air enjoyment with an original equipment look. They are crafted from the finest 3mm cast acrylic material available.
---
TechLiner® Bed and Tailgate Protection
WeatherTech® TechLiner® is the easiest to install, custom-fit solution for protecting and preserving pick-up truck beds – PERIOD! TechLiner™ armors your investment against scratches, dents, paint damage and rust by seamlessly lining the truck bed and tailgate. The liners "soft touch" material also helps prevent cargo from shifting yet provides ease to loading/unloading.
Made from a 100% recyclable and odorless thermoplastic elastomer, TechLiner® is durable, flexible and UV resistant.  Custom-fit for each application, the liner securely fits the exact contours of the truck bed and tailgate.  Will not crack, break or warp in even extreme temperatures.
---
UnderLiner® Bed Liner
Introducing UnderLiner® – digitally designed to perfectly match the contours of your specific pickup truck bed. WeatherTech® UnderLiner® provides added protection by creating a .065″ thick semi-soft protective barrier between the rigid drop-in bed liner and the painted surface of your truck bed.
So you just purchased your shiny new pickup truck and you intend to do some seriously heavy duty hauling. Your next stop will be to outfit your new vehicle with nothing but the best accessories – WeatherTech®FloorLiners – check, WeatherTech® MudFlaps – check. You passed on the WeatherTech® TechLiner® because you really have your mind set on a "drop-in" bed liner for the full protection you feel you need, but wait! Did you consider protecting the bed of your truck from the ravages of the rigid bed liner rubbing against the painted surface?
---
MudFlap No-Drill DigitalFit®
Introducing the WeatherTech® DigitalFit® No-Drill MudFlap! From the creators of the revolutionary FloorLiner™ comes the most startling advancement in exterior protection available today.
Fastening System
Featuring the Patented QuickTurn™ hardened Stainless Steel fastening system. The WeatherTech® No-Drill MudFlap set literally "mounts-in-minutes™"in most applications without the need for wheel/tire removal, and most importantly – without the need for drilling into the vehicles fragile painted metal surface! Contoured specifically for each application and molded from a proprietary thermoplastic resin, the WeatherTech® No-Drill MudFlap will offer undeniable vehicle protection.  Simply, a Perfect DigitalFit ®
---
Stone & Bug Deflector
Sleek and low profile, the WeatherTech® Easy-On® Stone & Bug Deflector is aerodynamically designed to provide excellent protection against stone chips and bug stains.  Made from aerospace-grade acrylic, it is virtually indestructible and extremely scratch resistant. Attached easily to most SUV's, trucks, minivans, or cars using either a 3M®-brand automotive adhesive tape, or fasteners that use existing holes in the vehicle's hood. No drilling is required. It is a beautiful and protective addition to any vehicle.
---
WeatherTech® Car Covers & Indoor Car Cover – Form-Fit®
Indoor and Outdoor covers to protect your vehicle
Contact Us Today With Any Questions ~ Phone: 715-829-0166