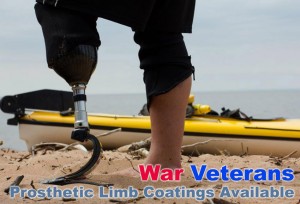 This coating on my prosthetic foot shell is the best option I have had in 8 years of trying to find an option that would allow me to be active in and around water. I love to get out into the wilderness and push myself as I explore and enjoy nature but my prosthesis would always get wrecked or break anytime I tried before. I have tried silicone, tire tread, sneaker tread and many more but nothing could even last a few hours before it was wrecked.
With this coating I can get wet move in the sand, rocks and easily transfer from water to land and enjoy all the activities associated with water and water sports without having to constantly worry about my prosthesis. This coating is absolutely remarkable as I have white water rafted in Montana, kayaked the great lake Superior, and enjoyed time on the beach and in the lakes with my family with not one problem. I highly recommend this product to any amputee that is looking for an amphibious option for their prosthetic.
---
Matthew M.
11/25/19
Excellent customer service! They went out of their way to get my Boss Plow serviced during my unexpected and end of the day problem so I could keep plowing that night. By the way, if you have a straight plow, I highly recommend the Boss wings! They exceeded my expectations and are definitely worth the investment for the time savings.
---
John S.
10/15/19
Couldn't be happier with the job they did on installing the plow on my truck. Great customer service, do nice neat work, and great over all experience! Will definitely look to them for any future services.
---
Amy Paulios
10/17/2018
My sincere thanks for helping my patient with the spray lining on his prosthetic foot.  I've prepared the foot scuffing it up to help the coating stick, and you can see my marker indicates where the Rhino Lining is needed-along the entire bottom surface of the foot and up over the back and front plate.  If it's possible to "double" the thickness on the front that would be perfect as this is where he is hardest on the foot when walking on cement/sand/gravel.
---
Jim Novak
10/25/2018
Thanks for going the extra mile and helping me with my new pickup topper.
Great doing business with you.
---
Marilyn Wellman
11/6/2018
I am writing to recommend Peter Bergee and Rhino Linings of Chippewa Falls. My home is about 80 years old and the basement is your "typical Wisconsin" basement – dark, cold and damp! The basement floor consists of several layers of rock and cheap cement slabs. Before Pete covered the basement floor with a GBC product called Super Sealer – there was a perpetual layer of dust and gravel – despite my best efforts to clean and sweep.Not only did the Super Sealer cut down on the dust and smell of moisture, it effectively filled-in the many holes and cracks in the floor. I can now use my basement to store items, do laundry and work-out!Pete was able to assess the situation and recommended a great product. He also was able to work around my schedule and completed the job quickly! Thank you Pete and Super Sealer!
---
Keith W Sengbusch
12/8/2018
I am looking for a price on a tonneau cover for my 2015 Toyota Tundra Crewmax. Looking at the truxedo deuce the one that rolls up and has the hinged front section. I have received several compliments on the spray liner you did, looks great.
---
Cole
12/2/2018
Pete was very friendly and sells the highest quality snow pushers in town. They are available in 24″, 36″ and 48″. I bought the 36″ and I am extremely happy with the quality of the pusher.
---
Carol
11/30/2018
I lost my Marine in May of this year and now have to figure things out for myself. Pete renewed my faith in human kindness. I was having problems with my plow and the helpers were not much help, so took it down to Pete. He immediately got it in the shop and had it completed as promised by Saturday. Pete went out of his way when I questioned things to show me how to take my Boss Plow on and off and then suggested I have a bracket put on the bumper to hold the cables. I said I would wait as my plate was full and when he found out I would be in Eau Claire on Wednesday he told me to bring the truck in and he would install the brackets while I waited. I brought the truck in and Pete did install the brackets. I will be bringing the Boss Plow down in the fall from now on for tune up I know this maybe a longer read but Pete did not have to step up and assist me as he did. Pete is a very professional business man but not only that he is a compassionate human being. Wish there were more like him.
---
Jake
11/27/2018
A true five-star company!! I talked with Peter he was very professional and very knowledgeable. After a few conversations with him we switched all of our plows over to Boss, best decision we've ever made! Thanks
---
Stowe Cargo Systems
7/26/2018
We dealt with Pete (Owner) in particular and what a great experience! Friendly, knowledgeable, and hospitable. His location is very well kept and organized, and he offers a large variety of accessories to choose from! our visit was nothing less than 5-Star. We will be returning! Thanks Pete!
---
Pete R.
7/26/2018
Pete and his crew did a fantastic job on my 2018 Ram Laramie. The truck looks great. I would recommend Linings of Eau Claire for your truck upgrades and I am happy with the work.
---
Paul
7/23/2018
I had the bed of my F150 spraylined with Rhinolinings by Pete back in 2007. It still looks great! Very happy with the product and the service Pete provided. Pete also installed my mudguards. I ll be going back with my next truck.
---
Scott
7/19/2018
Owner Pete was able to get the rhino lining in and special order a tube set in one month. Pete is great at keeping you in the loop of where stuff is and gets things done quickly and correctly. Highly recommend this to everyone.
---
Barbara
7/19/2018
Peter has put a paint sealant on our 2007 Dodge Grand Caravan for the past five years. It has protected the van each year. We often get comments from friends about how nice it looks. Thanks Pete for your good work and great service.
---
David
7/18/2018
I had a spray in bed liner the tuff Grip product ,it is excellent!! We absolutely love it.Thanks for the GREAT work A+ service totally recommended.
---
Tim M.
7/18/2018
I had my 2013 GMC pick up truck sprayed for a bed liner. Overall it looks great, better than I expected. The service that Pete gave was excellent, and i felt he went the extra mile to make sure it was done right! I would strongly recommend Pete and Rhino linings of Eau Claire.
---
Pete
7/16/2018
I had my truck sprayed two years ago, by Rhino linings of eau claire. The liner still looks great today. Thank you for a job well done.
---
Tom C.
4/20/2018
Pete really cares about his business. He has fair prices does great work and treats his customers well. Pete goes above and beyond he even helped me lift my 5th wheel hitch into place when my new spray in bed liner was completed. Thanks Pete!
---
Adam W.
4/13/2018
I was very happy with the work that was done and the thorough communication to make sure I was getting what I wanted.
---
Rick P.
4/1/2018
Pete emphasizes customer care to the extreme. He definitely makes sure you are satisfied with his products and services while ensuring you have the right product for your truck/vehicle. I will always go to him for any truck accessories such as the Truxedo tonneau cover I recently purchased. Its nice to have a reliable place to go to within the area.
---
Robert L
3/31/2018
I've taken my truck here for multiple things and they have gone above and beyond for me every time. Customer service and the work done here is top notch.
---
Scott H.
3/7/2018
I had a older Curtis straight plow that we used for years on our used car lot.. Bought the new Boss V plow and havent been happier.. It used to take me 2 days to plow the lot.. with the new V plow I can do it in a day.. The Guys at Linings of Eau Claire have great customer service. Would definitely buy another Boss plow from them.
---
Richie H.
2/27/2018
Great place, did a good job on blasting and painting my frame.
---
Steff S.
1/28/2018
I purchased a dash camera system (Momento brand) from Linings, they installed it for me, took about 50 minutes and it looks fabulous. They hid all the wiring and connected it to the power system of the car. It looks fantastic and I love the system. It has a front and rear camera so there was a lot of wires. Both guys were so nice and asked me where I wanted everything mounted. They sell all kinds of truck accessories and we brought our SUV back to them and got a Curt hitch installed. Again really great service from the guys, great customer service. I highly recommend Linings of Eau Claire.
---
Matt M.
1/11/2018
I purchased a new plow from Linings of Eau Claire last year and recently had them switch it to a different truck. Their service is always professional and they were very accomodating to my needs as far as the specific timing of the work to be completed.
---
Scott T.
12/31/2017
We had Pete install Sumo Springs on our RV. Pete was excellent to work with and Josh, the mechanic who did the actual installation did an excellent job. The quoted price was the best that we found and they did some extra work for a fair price. The work was done in a timely manner and we are very satisfied. I would recommend them to anyone.
---
Tom K.
11/25/2017
I enjoy the Ranch Hand bumper and brush guard Josh installed on my truck. It looks great and gives me added peace of mind while driving rural roads during hunting season in Wisconsin. Linings is a good place to go to get your bumper replacement and brush guard to protect against deer.
---
Mitch
10/28/2017
Peter and Josh have done about $2,500 worth of work on my new 2016 Chevy Silverado. Each time I have brought it in, I've been impressed with their work. It's a place that's big enough to have everything you need, but small enough to give you the attention and service of a small business. I've always dreamt of having this truck with accessories that they were able to add. They even did work to my truck that they have never done before; and, it was exactly how I imagined it would look! I plan on calling them to get more work done to my truck in the future. Needless to say, I am extremely pleased with the quality, cost, and employees' of this business.
---
Karlyy R.
10/26/2017
I've had several trailers and trucks done by Pete and Wisconsin Dustless Blasting over the years and will continue to go to him with any of my blasting needs. I have always been very impressed with their work, prices, and also their professionalism! Wisconsin Dustless Blasting is unique because they use a different method for blasting that always saves me money.
---
Tom E M.
10/24/2017
Let me tell you a little bit about Peter and Josh, these guys are great. Not only are they Wisconsin dustless blasting, Peter also has Rhino Liners and Boss Snow Plows. My experience is with the Boss snowplows. I bought a used plow truck with a 9.2 boss V plow. It was in need of repair. Hoses missing, springs missing. Bottom line – it needed help. I drove in without an appointment, Peter looked at the plow made a quick assessment, and let me know, I basically had a great plow. A great plow that needed some TLC. I left the plow with him and within one week he calls me and it's completed, at a very reasonable price. So I head over with my truck, we hook up the plow and it doesn't work, :-(. Josh was on it immediately. They came to a quick conclusion it was a connector on the truck. Josh gave me a ride home within two days they called, everything was up and running great. And again at a very fair price. I highly recommend these guys not only for plows but I i'm sure they very are just as professional with Rhino Linings and Wisconsin Dustless Blasting. Five stars guys! You have a customer for life. "Let it Snow, Let it Snow.
---
Chad B.
10/15/2017
I brought my truck to Wisconsin Dustless Blasting. When i arrived to pick it up I was overly pleased with the results! Extremely professional service with these guys! This is a Business i would recommend to anyone!
---
Barbara W.
10/7/2017
My husband and I took our car to Wisconsin Dustless Blasting. The staff was very accommodating and friendly. The grounds and shop were well kept. We definitely would recommend them to any of our friends.
---
Jay R.
10/6/2017
Ordered a set of vent shades and bug guard for my F-550. Quick delivery, and professional install! I highly recommend Pete and his crew for any truck accessories!
---
Tim M.
10/6/2017
My name is Tim and I recently had Pete work on my whole truck and bed, it was about $4500. I could of spent a few thousand more with other competitors, and much more if I just bought a new truck, so I gave dustless blasting a try. To my amazement the truck looks brand new after his work! He went out of his way to make sure this would fit my schedule too. I'm a fan, Pete did not go over his quote, and he exceeded my expectations. I would strongly recommend dustless blasting!
---
Jeff N.
9/21/2017
Pete was very helpful and gave me good information on buying a topper for my 2014 F-150. The delivery date was fast and the color match is spot on! I hope to get my truck bed sprayed with Rhino Lining from them in the future.
---
Tom J.
7/16/2017
I had a truck bed lining sprayed by Pete. The quality of work was superb and done in a timely manner. Strongly recommend doing business here.
---
Brad M.
7/11/2017
Have done business with Linkngs of Eau Claire for 4 trucks. Pete does a great job installing products. The main reason I do business I because if there is an issue it is taken care of. He stands behind his work and products
---
Keith Y.
2/19/2017
I recently purchased a Retrax bed cover for my new 2016 Chevrolet Silverado from Pete Bergee at Linings of Eau Claire. He was very competitive on the price and was knowledgeable about the product. When one of the parts was slightly damaged during shipping (through no fault of Linings of Eau Claire) Pete promptly contacted Retrax and obtained a replacement for the damaged part. Pete and his employee were very good to work with, I wouldn't hesitate to purchase from him in the future.
---
Mark B.
1/20/2017
I just had a new Rhino Liner installed in my 2015 F150 King Ranch. I called and visited several different liner installers because I had a very negative experience with my last truck and a "dealer installed" lining. Pete addressed all of my concerns and even went so far as to send my a couple photos of the bed preparation before they sprayed in the liner. It is a rare occurrence these days that an automotive service business exceeds my expectations as I am very picky. Linings of Eau Claire, Pete and Josh, you guys are best in class.
---
Scott G.
1/16/2017
Looking Rhino-Line for my Dodge Ram 2500 Quad Cummings Diesel. Everyone was time locked and Pete was kinda busy too. I explained what my situation was and he found a spot for me. My house is East Bethel,MN to Eau Claire,WI is 80 miles. Got there and explained how my truck is in perfect condition and I wanted it done exactly "this way". I drove another 80 miles got exactly what I wanted. Not only that, the price was $200 lower than one of the estimates I got. Also, Pete's employee explained to me my snowplow problem. Lol