The company designs, manufactures and markets a full line of off-road equipment and accessories that enhance the performance of four-wheel-drive vehicles, ATV's and utility vehicles. The company's Industrial Division markets electric and hydraulic winches and hoists to commercial, industrial and severe duty customers. Warn also has a line of utility winches and hoists that are designed for professional trade workers and do-it-yourself consumers who need powerful tools to assist them in pulling, hauling, dragging or lifting. Warn focuses on three specific markets – Consumer Aftermarket, Industrial/Commercial, and Original Equipment. With customers in over 65 countries, WARN is one of the world's most recognized brands in vehicle performance enhancing equipment. Contact us at Linings of Eau Claire LLC to learn more about the winches, mufflers, and wipers we carry for drivers throughout Eau Claire, Altoona, Bloomer, Chippewa Falls, and Menomonie, WI.



Ultimate Performance Series


NO-COMPROMISE CONSTRUCTION, HIGHEST PERFORMANCE
The advanced technology ZEON Platinum sets the new benchmark for the Ultimate Performance Series. These winches occupy the top-of-the-line, and are packed with features serious off-roaders demand: rugged construction, extreme sealing, and ultra-high performance ratings.



Premium Series


WHEREVER YOU GO, THE ZEON WINCH EXCELS
Redesigned and reengineered from the ground up, ZEON defines the next generation of Premium Series winches from Warn. With standard features like dependability and durability, they represent tomorrow's classic, today.



Entry Level Series


VR WINCHES REDEFINE VALUE
By wrapping WARN dependability with aggressive value pricing, the VR line makes it easy for anyone to get into winching. But trust us, it wouldn't bear the WARN name if it didn't meet our rigorous QC standards. Capacities from 8-12,000 pounds.



Heavyweight Series


THE BRUTE STRENGTH HEAVIER TRUCKS DEMAND
With pulling capacities from 12,000 to 16,500 lbs., these winches feature large-frame construction to manage big winch loads. Ultra-strong carrier plates withstand the heaviest gear train stresses, and all feature long duty cycles and the structural integrity to handle sustained pulls.
---
Hoists
WARN Corded PullzAll
DC Powered Lifting and Pulling Tool

Lifts or pulls up to 1,000 lbs. (454 Kg)
Replaces old-fashioned come-a-longs and chainfalls
AC version perfect for use where power is available

When you're in the shop and have access to a power source, just plug in PullzAll and let it help you tackle those labor intensive chores. Move heavy machinery. Hoist an engine block. Lift a load precisely into place, then nail it, weld it, whatever it. You think up the task, and PullzAll flat out revolutionizes the amount of work one man can do.

INDUSTRIAL HOIST DC4000

Powerful series-wound DC motor with robust sealing
Proven 3-stage all-metal gear train with permanent grease lubrication for years of trouble-free service
Large-frame design with a cast aluminum drum provides plenty of wire rope capacity
Automatic disc brake holds full rated load
Durable powder-coated finish stands up to the elements

Control Pack and Remote Control for the DC Powered Hoist

Industrial control packs and remote controls are sold separately from WARN hoist units.
---
Mounting Systems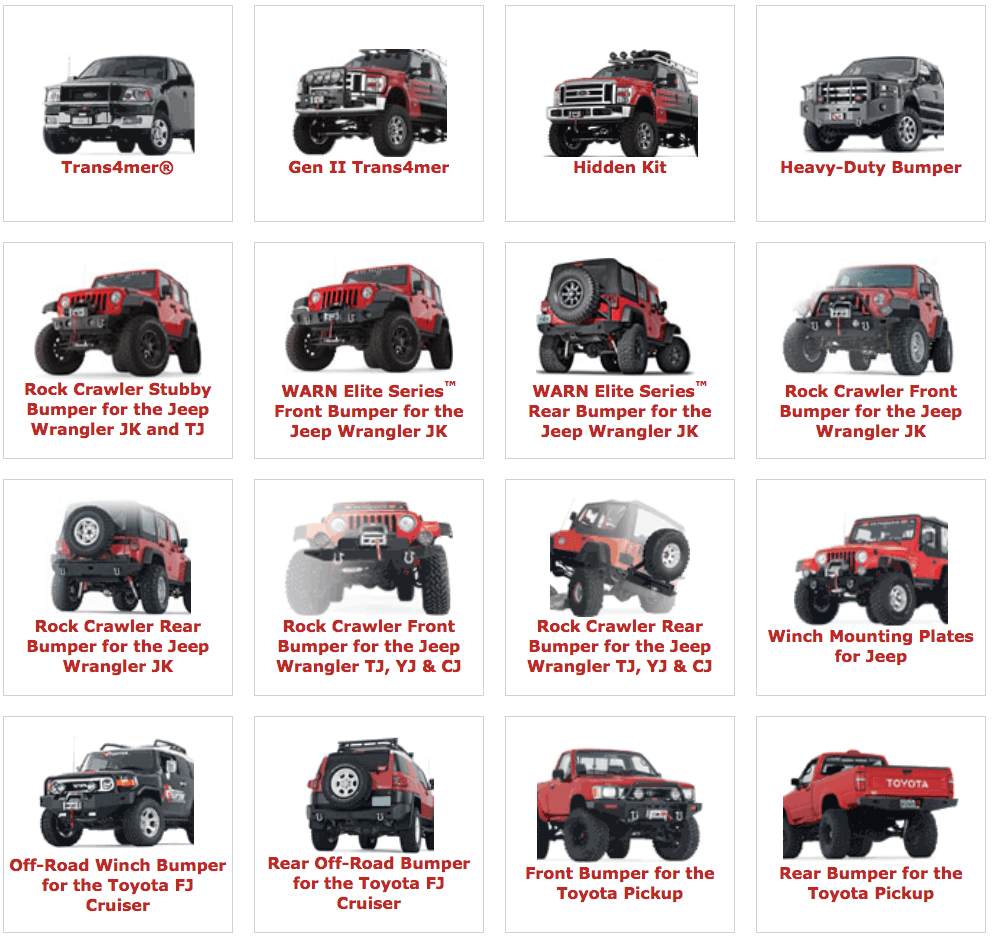 ---
CURT is a leading manufacturer and marketer of top-quality towing products. The company offers American-made, custom-fit receiver hitches and wiring harnesses for nearly any vehicle on the road. They also market a broad range of trailer hitches, towing systems, and related accessories. CURT is 'The First Name in Towing Products' for automobile and truck hitches, as well as RV, gooseneck and commercial towing systems. Products are marketed through retailers, distributors, installers, and e-tailers across the U.S. and Canada. CURT employs hundreds of associates, primarily at their manufacturing facility and corporate headquarters located in Eau Claire, Wisconsin. CURT operates 10 regional warehouses, each carrying over 2,500 items and has been twice named a Wisconsin 'Manufacturer of the Year'.
TRAILER HITCHES
CURT manufactures over 1,000 different trailer hitches to meet every possible towing need. It is our goal to always be your best option for towing by providing a complete line of quality products and being first-to-market with towing products for each new vehicle. If we can get you out on the road with a hitch you can enjoy for years to come, doing more of what you love, we have done our job.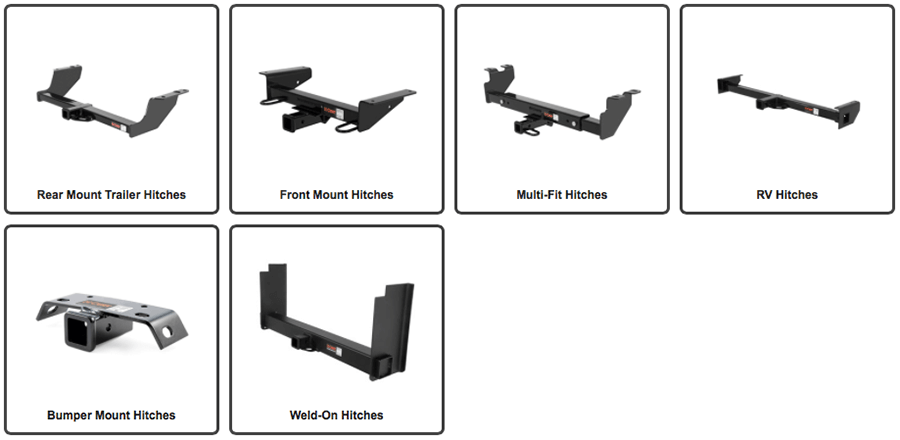 BALL MOUNTS
Ball mounts are a key product in the towing industry and a core item within the CURT product line. We have invested in the technology necessary to produce a full line of exceptionally strong and attractive ball mounts, ensuring that they are a step above the rest. The vast majority of CURT ball mounts are CNC-formed and robotically welded for the utmost accuracy and cleanest weld lines possible. After construction, our ball mounts undergo a mechanical descaling process that creates a flawless surface for the application of our highly durable Aquence® coating and powder coat finish. These two coats cure together to form a protective surface that is superior in rust, chip, and UV protection.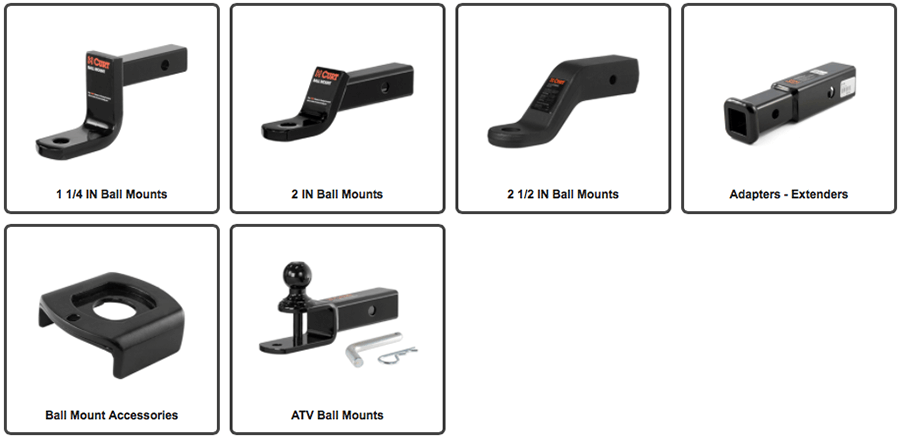 TRAILER BALLS
Getting out on the road sooner means making sure you are equipped with the tools you need to tow safely and comfortably. Regardless of your destination, CURT carries a wide variety of trailer balls to meet your needs.
Even the simplest part of your trailer hitch system can make the difference between successful towing and "just good enough". A trailer ball that is precisely fitted to your trailer coupler and made with quality materials makes that difference. CURT trailer balls are engineered to have the highest quality for consistency, accuracy, strength, and fit. They have a quality finish with coarse or fine threads to provide smooth installation and superior holding strength. All CURT trailer balls meet U.S. VESC specifications and are tested for your safety. They are available in nickel-chrome, stainless steel or raw finishes.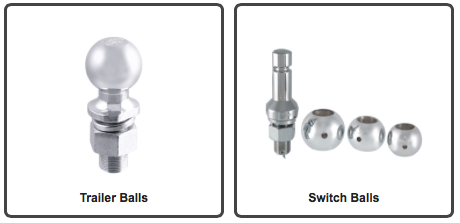 SECURITY
Security is an important aspect of any type of towing. It may also be the thing you think about least when hitting the open road. From that prized sailboat ready to take to the open seas to a simple utility trailer full of camping gear, you want to make sure your equipment is properly secured for travel and fully protected from unwanted tampering.

PINS & CLIPS
CURT offers an extensive line of towing security products starting with the basic pin & clip. Our hitch pins & clips are made for securing ball mounts and accessories, such as a cargo carrier or bike rack, to your trailer hitch. They feature bent handles for easy operation and are available with a rubber coating for an easier grip. Choose from standard hitch clips or swivel-style, depending on your preference. CURT also offers safety pins that are excellent for securing couplers, jacks and caster wheels. They come with a simple yet effective spring clip design and are available with an optional 12-inch chain to ensure the pin remains attached to your trailer coupler. All CURT safety pins feature a zinc finish for long-lasting corrosion resistance.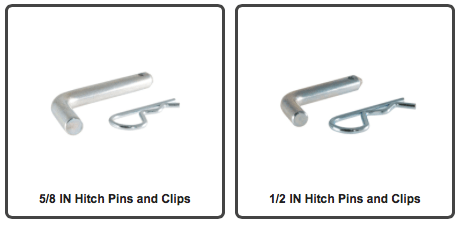 ACCESSORIES
With any towing setup, there is always the need for a few additional items. Though your trailer hitch and ball mount may be tough enough to haul that heavy load, they cannot properly tow without a few supporting players. Towing accessories are a practical addition to your rig that adds the finishing touches and take your towing experience to a whole new level. With the right accessories, the difference is a little like cruising the Grand Canyon in a deluxe RV as opposed to camping out in grandma's backyard.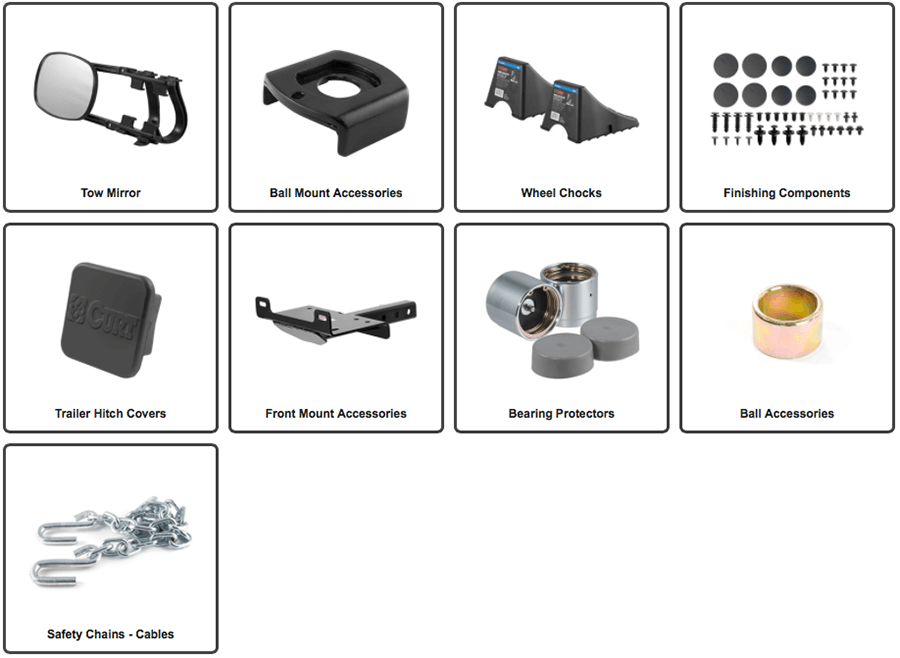 ELECTRICAL
CURT electrical products are designed to deliver unsurpassed levels of performance, reliability, and durability. Our philosophy in electrical is the same as our philosophy for trailer hitches: we want to provide "the perfect fit". We want plug-and-play products that offer easy installation and superior functionality. The use of surface mount technology (SMT) components is just one of the steps CURT has taken to achieve this goal. SMT components are the most up-to-date parts available for circuit designs, offering lower resistance, reduced heat generation and longer life cycles than more common, out-of-date, through-hole-mounted components. CURT applies SMT to a full line of tail light converters and to any custom vehicle-to-trailer wiring harnesses (also called T-connectors) with built-in converters.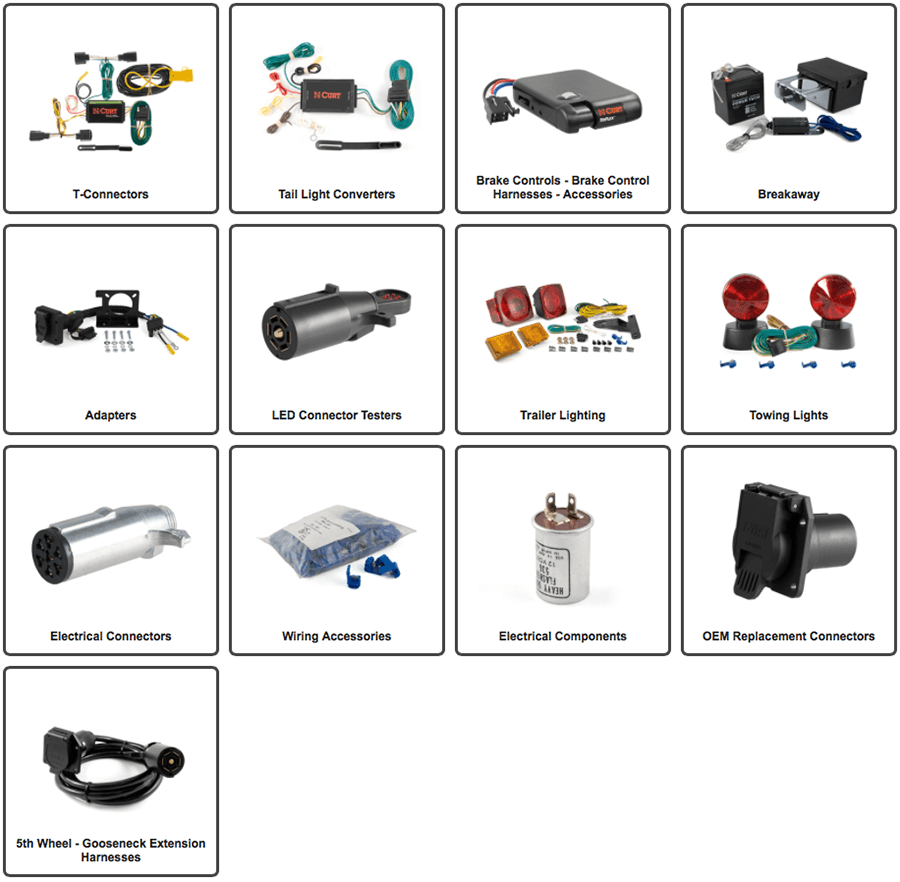 SPECIALIZED TOWING
In the towing industry, there are times when greater care and more specialized equipment are required to meet the demands of towing a heavy load. When a standard trailer hitch and ball mount are not enough to handle an especially large trailer and 5th wheel and gooseneck hitches are not the right fit for the job, CURT Manufacturing has created an entire line of towing products that are designed to accommodate the interests of specialized towing.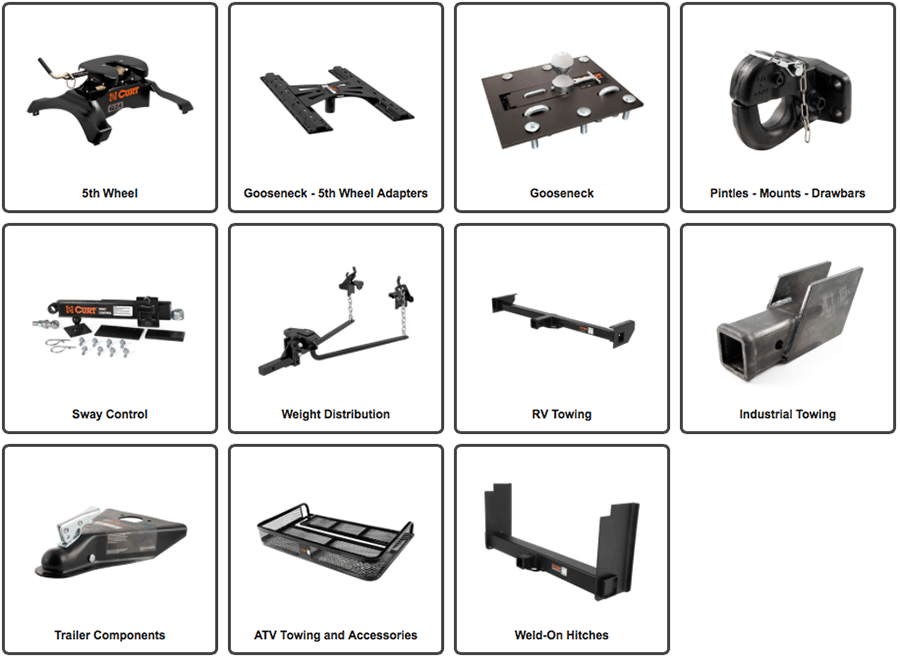 CARGO MANAGEMENT
Camping on the lake shore, hunting in the Northwoods, biking down a mountain trail – wherever you are headed this weekend and whichever toys you want to bring along for the ride, you can Bring It® with CURT cargo management products. From our expanding line of bike racks to our new and improved cargo straps, we offer cargo management solutions to fit your unique lifestyle.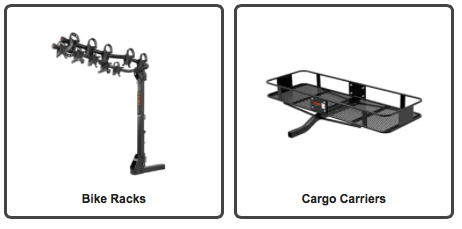 BIKE RACKS
Whether you are an avid mountain biker or a casual rider, you will want CURT along for the ride. CURT bike racks are made to fit 1 1/4" or 2" receivers and are able to carry anywhere from two to five bikes, depending on the style of bike rack.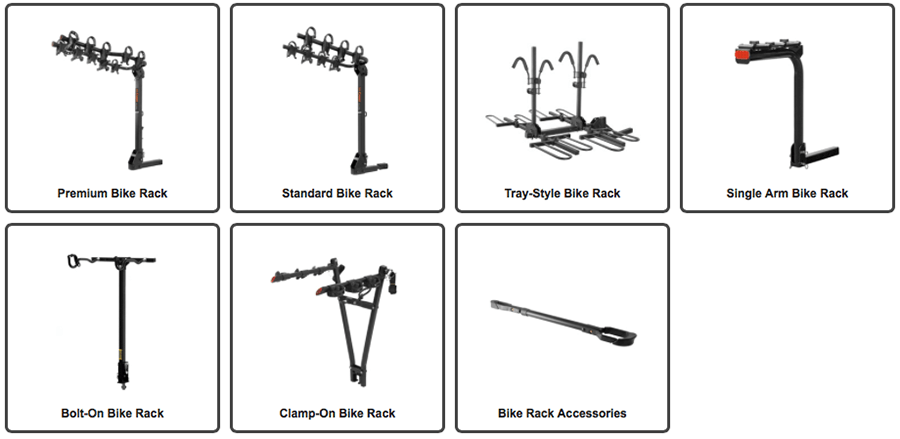 CARGO CARRIERS
CURT is the brand you should choose when you need extra room for toys and equipment.  For a variety of styles and carrying capacities, CURT is your brand. CURT's bolt-together cargo carriers range in carrying capacities from either 300 or 500 pounds. Basket carriers are made with heavy duty all steel tubular construction and a carrying capacity of 500 pounds. Tow equipment on your ATV with a CURT Universal ATV Cargo Carrier.
Save storage space in your vehicle by transporting your gear in a CURT hitch mounted cargo basket. Secure your load with cargo nets and ratchet straps and Bring It!