Since 1975, Go Rhino® has remained a leader in the development, design, and manufacturing of innovative, stylish and extremely useful aftermarket automotive accessories. For over 30 years, Go Rhino has taken pride in offering products that allow the trucks and SUV owner to enjoy the most from their vehicle. Contact us at Linings of Eau Claire LLC if you're looking for bumpers, truck rocker panels, deflectors, and more for your truck in Eau Claire, Altoona, Bloomer, Chippewa Falls, or Menomonie, WI.
Manufacturing
Our manufacturing facility is staffed with talented, skilled, and passionate personnel who build each Go Rhino product to the highest standards while utilizing the latest technology and processes. Hundreds of hours go into the development, testing, and fitting of each product before it is approved for manufacturing.
The research and development team work tirelessly to bring each new product to life. Skilled, trained technicians man some of the most advanced machines for cutting, bending and preparing our parts for assembly. Precision jigs ensure that each piece fits to exacting standards with welds created by experienced craftsmen or the best robotic welders. Our processes include constant inspections for the best fit. Once assembly is complete, you can count on the highest quality and best-looking finishes, whether it be our black powder coat, textured black powder coat, chrome, or mirrored polished stainless steel finishes. All of our finishes meet or exceed the OE standards for quality and durability. The most advanced, automated powder coat line is constantly monitored for uniform gloss and thickness.
Once the parts are complete, they are packed carefully and stocked in one of our two giant warehouses serving each coast. As a product is received, it is placed in one of four staging areas based on how popular the product is and how often it is ordered. Our quickest-moving products are stocked at maximum capacity to ensure that they are in stock for immediate same-day shipping if needed.
---
Bumper Replacements
When you want the ultimate bumpers for your truck, you want the NEW Go Rhino Bumper Replacements. Go Rhino Front or Rear bumper replacements are designed in 3D utilizing digitized data to form fit the contours of each vehicle.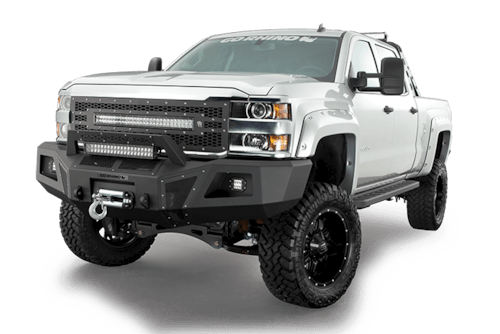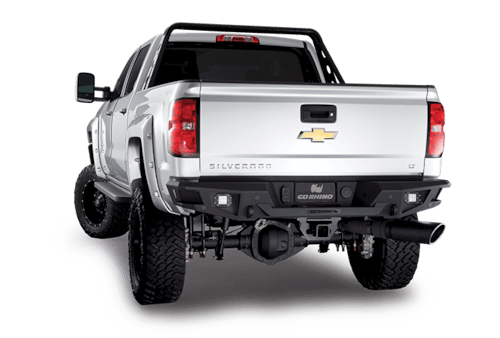 ---
Grille Guards
Go Rhino offers a wide variety of front grille guards. We will have you covered whether you want a sporty look, heavy-duty protection, or functionality out of your grille guard.
---
Bed Accessories
Go Rhino offers a wide variety of bed accessories to fit your needs. We are one of the few manufacturers that offer Bed Bars in addition to our Sport Bars and Bed Rails.
---
Running Boards
The RB10 Running Boards protect your paint from flying stones and gravel while providing a wide, full-length step platform for easy entry to the front or back doors. These Raptor-style running boards are built from 16-gauge zinc coated steel and sprayed with a durable black textured finish for corrosion, impact & abrasion resistance.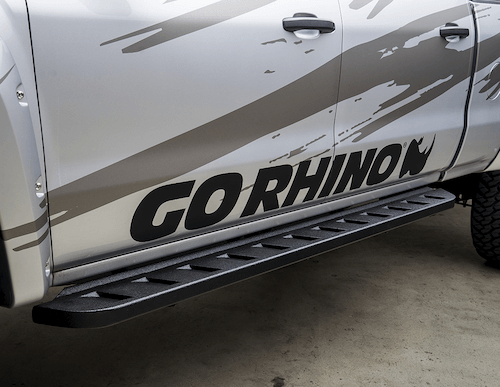 ---
SideSteps
Dominator SideSteps
The Go Rhino Dominator SideSteps will give your truck the edge that you are looking for. The lowered hoop step gives you a great alternative to the OE style sidesteps.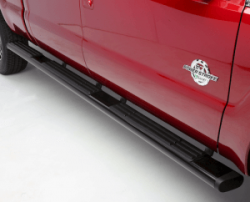 OE Xtreme SideSteps
Go Rhino's signature line of sidesteps, the OE Xtreme series, offers style and an OE style look to your truck or SUV. One glance at the Go Rhino OE Xtreme SideSteps design and you'll wonder how you ever drove around without them. Just like traditional running boards that are designed for your vehicle, the OE Xtreme SideSteps are expertly engineered then crafted from premium aluminum and finished with welded-in chrome end caps that sparkle in the sun or powder coated black with plastic end caps if that's your style. Plus, they're topped with our SuperGrip non-slip rubber treads to keep you from slipping and sliding when you are entering or exiting your vehicle.
The 415 SideSteps
These 4" OE Style sidesteps with 15-degree bends deliver value in a big way. They offer a clean, finished look available for many popular truck and SUV/CUV applications. There are cab-length and wheel-to-wheel versions of the 415 and the cab-length polished stainless version also feature welded end caps!
Classic SideSteps
Go Rhino's classic 3″ round sidesteps give your truck that will complete the traditional look on your truck or SUV. When your truck deserves only the best it's time to step up to the best! When you go with Go Rhino, you won't worry about slipping and sliding while getting up and into your truck. Thanks to the traction-creating molded step pads, no one will be adding to that list of embarrassing moments.
---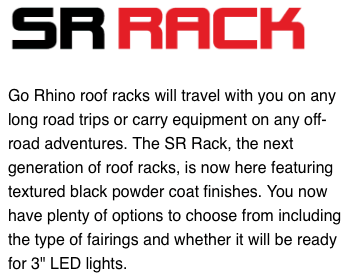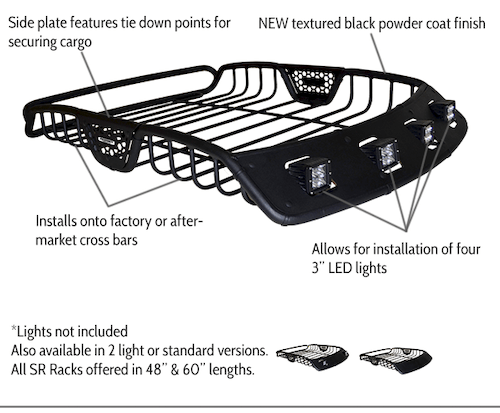 Road Armor
Road Armor is the world's leading bumper manufacturer dedicated to manufacturing performance products that lead the industry in form, fit, and finish. If some of our designs look familiar to other knockoff competitors products; they should. We were the first to use a high-angle faceting approach to design our products, and with the release of our Stealth line of bumpers, we have lead the industry since 2002. Having produced over 10,000 winch bumpers in our careers we are now building a more successful company than ever dedicated to 100% customer satisfaction. Using the latest in parametric 3D CAD software and state-of-the-art equipment we offer products that are unrivaled in design as well as fit and finish, and at the most competitive prices. Check out the competition, you won't find a better product for your money.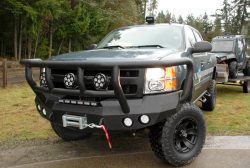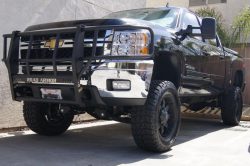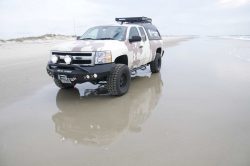 Iron Cross
Be prepared for products that will change the way you and others look at your truck. Drawing from 30 years experience in the aftermarket and Original Equipment industry, we are able to bring you the highest quality parts available using state of the art technology combined with old-fashioned hard work. Iron Cross prides itself as one of the only remaining 100% American made manufacturers of automotive accessories.
For American Made products, contact your local retailer and ask for Iron Cross Automotive.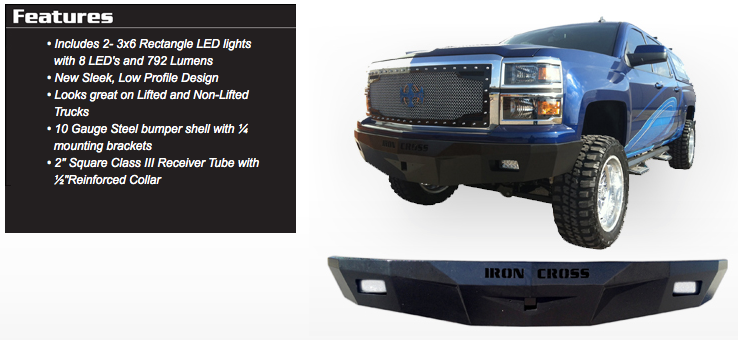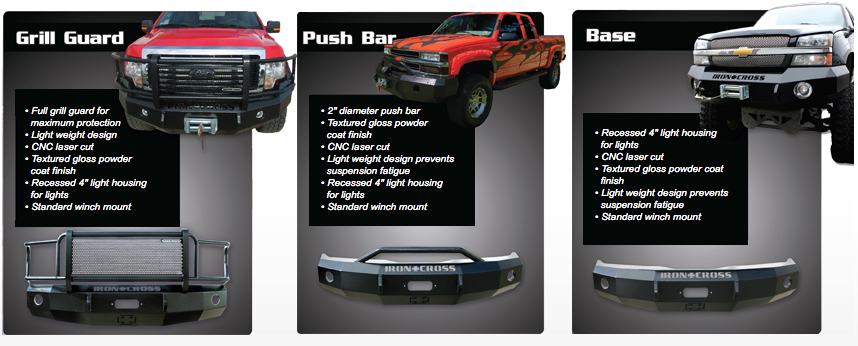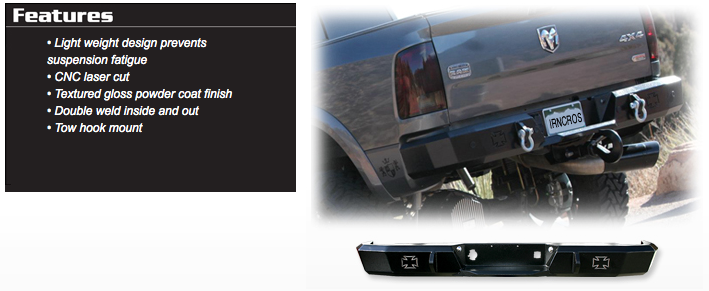 Contact Us Today With Any Questions ~ Phone: 715-829-0166