We Add More LIFE To Your Truck
Dee Zee¹s products sustain the worker, the weekender and everything in between. Our extensive product lines are built with you in mind. We recognize your need for durable, functional, and stylish products to keep up with your hectic pace. Dee Zee¹s classic styles are intertwined with the newest modern looks to explicitly satisfy your needs.
Dee Zee has been a staple brand in the truck accessory market since 1977. We are trusted to support the biggest names in the auto industry as their Original Equipment Manufacturer (OEM) on a variety of products. If you take a closer look, you may see a Dee Zee finished product underneath a Chrysler, Ford, GM, Honda, Nissan, Subaru, or Toyota logo. Our proven manufacturing techniques have carried over to our consumer market accessories you see flooding websites, catalogs, and your local retail stores.
The fertile ground in America¹s Heartland gives way to five buildings in Central Iowa comprised of almost 700,000 square feet dedicated to manufacturing, packaging, warehousing, and shipping. In-house engineers create Dee Zee¹s storied products with the latest design software to produce custom fit applications for your vehicle. The majority of Dee Zee products are made and packaged in Des Moines, IA with 90% of supplied parts coming from American vendors.
Dee Zee is always promoting a cleaner tomorrow by practicing green manufacturing techniques. Our eco-friendly manufacturing processes not only save the end consumer money by using lean practices, but we do our part to protect the planet. Dee Zee¹s reduced carbon footprint is achieved through massive recycling efforts, material reductions, and efficient manufacturing processes. We are proud to work with vendors who are Sustainable Forestry Initiative (SFI) program participants for paper and cardboard products during packaging.
If you need more reassurance, maybe one of the best warranty programs in the industry will satisfy you. With a limited lifetime warranty on the majority of Dee Zee products, you can be guaranteed our brand will withstand the ultimate test of time.
LIFE isn't just a 4-letter word. Dee Zee can personalize your vehicle to fit the needs of your lifestyle. Take the hassle out of your everyday routines by giving yourself an extra step into your vehicle or finding the perfect lockable storage box. We are here to accommodate the needs of your vehicle that affect your LIFE. Contact us at Linings of Eau Claire LLC for truck rocker panels, hood shields, lighting, and more in Eau Claire, Altoona, Bloomer, Chippewa Falls, and Menomonie, WI.
---
Truck Tool Boxes
Dee Zee Tool Boxes are constructed for the worker, the weekender and everything in between. Our extensive line-up of Truck Tool Boxes gives you the choice to select the materials, colors and features the suit your needs. Made from the highest quality materials and mechanisms, you can rely on our Truck Tool Boxes to stand the test of time.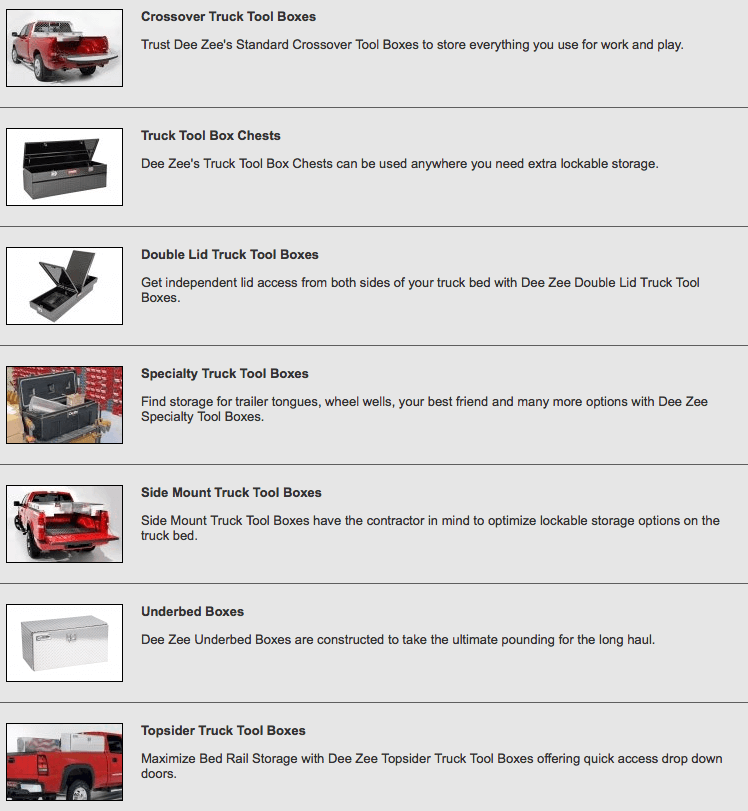 ---
American Racing® Tool Boxes
Dee Zee has partnered with American Racing Custom Wheels to bring you a great new line of tool boxes. Enthusiasts know the rich history of American Racing and now have the opportunity to get that legendary name on quality storage products.
---
Dee Zee
FX Running Boards
No other running board by Dee Zee offers as many deluxe features as their FX series. Besides being completely custom-designed for a perfect fit onto your truck or SUV, their cushioned step pads deliver unparalleled traction. Plus, the designer black lining and mud flaps are OEM-approved, so they'll match the rest of your trim. And, the FX Running Boards have a thick rubber gasket to seal off the space between the boards and your chassis to eliminate gravel buildup.
Since strength is vital to a robust pair of running boards, the FX Running Boards are crafted from solid aluminum. Best of all, your FX Running Boards are covered by a limited lifetime warranty.
---
Dee Zee
Brite-Tread Running Boards
Contractors, journeymen, and foremen all agree that materials make the difference between a building that'll stand the test of time and one that'll collapse under its own weight. With this worksite wisdom in mind, Dee Zee designed the rugged, commanding Brite-Tread Running Boards using only the toughest ingredients.
At the heart of the Brite-Tread Running Boards' strength is the solid aluminum construction with garage-inspired diamond-tread texture. Not only is this alloy naturally non-rusting, but it's also treated with a clear powder coating to stop oxidation and corrosion.
Though your Brite-Tread Running Boards will probably outlast your rig, they don't take years to install. Using Dee Zee's groundbreaking Quick Bracket system (Ford and Chevy only), these running boards mount to your frame in no time with little or no drilling.
Best of all, your Brite-Tread Running Boards are covered by a limited lifetime warranty.
---
Dee Zee
6″ Oval Nerf Bars
Beef up your truck with hefty and strong Dee Zee 6″ oval step bars. No matter your shoe size, you won't have a problem getting into your big rig with these wide steps supporting you. Crafted from 16-gauge steel, each Dee Zee 6″ Oval Nerf Bar boasts molded plastic end caps and step pads. They're custom-fit and attach right to your truck without a drill.
You have the choice of stainless steel or black powder coated Dee Zee 6″ tube steps. The only difference between the two is which color you prefer on your truck. Your steps and brackets are protected by a No Rust Technology (NRT) to prevent corrosion – so you can trust them for long term use. To ensure your truck's look is just right, Dee Zee 6″ bars come in three different lengths to coordinate with your cab length.
Dee Zee 6″ steps for trucks are proudly made in the USA. The black steps are backed by a 3-year warranty and the stainless steel steps are backed by a Limited Lifetime Warranty.
---
Dee Zee
NX Running Boards
Tired of pulling a hammy everytime you hop into the driver's seat? Get a leg up on how you get in and out of your cockpit with Dee Zee NX Running Boards.
Subtle styling. Sleek lines. Simple elegance. Your Dee Zee NX Running Boards share the same traits as your crossover. And, your Dee Zee running boards are custom sculpted for a seamless fit, so they look factory-installed yet cost a fraction of dealership prices.
More than just attractive, your Dee Zee NX Running Boards are built tough with a sturdy, powder-coated aluminum frame. The stepping surface is equipped with rubber grommets for sure footing, and these Dee Zee running boards install with no drilling required.
Best of all, Dee Zee NX Running Boards come in 3 distinct finishes to suit your sense of style. Pick from a black top with black trim, a black top with chrome trim or a stainless steel top with black trim. All 3 options are backed by Dee Zee's Lifetime Warranty for workmanship and 1-year warranty for the finish and hardware.
---
Bed Mats
Dee Zee Bed Mats offer you an inexpensive way to protect your truck bed. Dee Zee's thick rubber Bed Mats defend your bed from starches, dings, and dents. Bed Mats also keep cargo from shifting, not only protecting your valuable cargo but also protecting the inside walls of your truck box. Spray-In bed liners are expensive and cannot keep your cargo in its place like a thick composite rubber Bed Mat. Dee Zee Universal Bed Mats also make great Utility Mats for your shop or garage.
---
Mud Flaps
Dee Zee Mud Flaps, Mud Guards and Splash Guards deflect water and debris from damaging your fender wells. Without Mud Flaps, rocks can cause unsightly dents or scratches to your vehicle or throw rocks into following vehicles windshields. Dee Zee offers multiple styles of custom fitting Mud Flaps in thick Composite Plastic, Brite-Tread Aluminum, Stainless Steel or Rubber finishes.
---
Truck Rocker Panel Moldings
Hide unsightly rust spots or add a little shine to your vehicle with Dee Zee Stainless Steel Body Moldings. The 304 Stainless Steel is polished to a brilliant shine to accent your vehicle Side Body Moldings. Custom-fit applications of truck rocker panels match your vehicle contours exactly and install easily. Can't find what you are looking for? Try our U-Cut moldings that allow you to customize your Side Moldings, Door Pillars or Fuel Tank Door.
---
Grill Guards
Give the front of your vehicle the ultimate protection with a Dee Zee Grill Guard. The European style of Dee Zee Grill Guards contour to each vehicle frame with custom fit applications. Our Grill Guards are available in your choice of Polished Stainless Steel or UltraBlack finishes. The rugged steel resists the elements while adding the ultimate protection accessory to your vehicle. Grill Guards help you plow through the brush or deflect errant shopping carts at the grocery store.
---
Bull Bars
Dee Zee Bull Bars are constructed of heavy-duty mandrel bent steel and finished in polished stainless steel or UltraBlack powder coat. Pre-drilled holes allow you to make your Bull Guard the ultimate accessory by adding auxiliary lighting. The 3″ diameter steel tubing defends against damage to your bumper while the removable skid plate allows to you add undercarriage protection when you need it.
HDX Winch Mount Grille Guard – NEW!
Westin's HDX Winch Mount Grille Guards are the standard in grille guard design, engineering, and capability. Accommodates most manufacturer winches with up to 16,500 lbs rated line pull. The winch tray is pre-drilled for winch mounting and optional low profile MAX Winch Tray Faceplate Tow Hooks are available where applicable.
Features
HDX style grille guard with winch tray for winches up to 16,500 lbs
2-inch tube, full wrap around wings
1.5-inch tube for support wings
Full punch plate grille
Accommodates most manufacturer winches
Utilizes MAX series faceplate for added style
Utilizes bolt-on MAX tow hooks (sold separately)
Light clamps available for light mounting (sold separately)
Mount kit included
---
HDX Grille Guard
Westin's HDX Commercial Grade Grille Guard is a bold statement of authority with its 2-inch diameter tube frame. The HDX Grille Guard is made of a 1-piece welded construction. The wing's interior tube and the wing's bottom support tube are 1.25 inch in diameter. Uprights are fully lined with 1/8 inch thick and 2-inch wide rubber strip to protect the grille guard from bumps and scrapes. The HDX Grille Guard also features a full punch plate center grille to intercept impact from flying debris. Optional Light Clamps are available, 57-0000 in SS and 57-0005 in BLK, which allow lights to be mounted to the cross tube and punch plate. HDX Grille Guards are available in stainless steel and black powder coat.
Features
2-inch tube, full wrap around wings
Full "punch plate" grille
1-Piece welded uprights
HD rubber upright strips
1.25-inch tube for support wings
Mount kit included
---
Sportsman Grille Guard
Westin Sportsman Grille Guards are the standard in front-end products. It's fully welded 1-piece construction provides solid strength and a stable mount. The 1.5-inch diameter tube frame is a vehicle specific design and comes complete with mounting kit. The Sportsman Grille Guard comes equipped with light mounting holes and removable headlight area cross bars for easy vehicle headlight maintenance. Installers prefer the easy no-drill installation of this product and therefore, choose Westin! Add a set of Westin Driving Lights for a complete customized look.
Features
Thick rubber protectors line uprights
Center crossbars are 1.5 diameter tubing
Headlight area guards are 1.5 diameter tubing
Removable headlight area cross bars
New applications feature Westin's Double Hood Bar!
Mount kit included
---
E-Series Bull Bar
Westin's E-Series Bull Bar is a front-end light bar designed for trucks and larger model SUVs. It is made of 3-inch diameter polished stainless steel tube and mounts to the vehicle's existing mounting points thus installation does not require any drilling to the vehicle frame. Product comes complete with mounting kit. The E-Series Bull Bar provides a mounting point for 2 auxiliary lights up to 6 inches in diameter. It features a laser cut Westin block logo design on the stainless steel skid plate.
Features
3-inch diameter tubing
Polished stainless steel
Vehicle specific applications
Unique skid plate design
Mount kit included
---
Safari Light Bar
Westin Safari Light Bars transforms compact, mid-size trucks and SUVs by adding a rugged look that doesn't overpower. It can be used with or without driving Lights, for which welded mounting tabs are provided.
Features
2-inch diameter bar
Universal bars
Welded light mounting tabs
Mount kit required
---
Sportsman Tail Light Guards
Westin Sportsman Tail Light Guards add a rugged look to trucks and SUVs. They complement Westin Sportsman Grille Guard and other tubular grille guards and step bars. A perfect add-on for any vehicle!
Features
Welded units
Contoured to vehicle's light design
Installer preferred
Contact Us Today With Any Questions ~ Phone: 715-829-0166