Ready to take a seat on a new lawn mower that'll make quick work of even the biggest lawn or lot? Stop in at Linings of Eau Claire LLC today and check out our great selection of Spartan mowers and accessories. We've got the equipment you need to get to work and get the job done right!
SPARTAN MOWERS IN EAU CLAIRE, WI

Spartan Mowers
We're pleased to partner with Spartan Mowers to recognize the hard work and dedication of our military personnel and first responders through the Spartan Warrior Program. Qualifying customers include active duty military, National Guard, Reserves, veterans, retired military, Homeland Security, law enforcement, firefighters, EMTs, paramedics, dispatchers, and federal officers.
Spartan Mowers is a product dreamed, designed, and engineered to be the best possible machine on the market. Spartan Mowers is taking the mowing industry to a new level. From commercial lawn equipment and stand-on mowers to zero-turn mowers for small and large yard applications, Spartan has the perfect model to meet your needs.
All Spartan Mowers are on sale with your choice of a $500 instant rebate or special financing for qualified buyers—PLUS, get a 5-month extension on the standard 3-year warranty. Give us a call to set up a test drive and find out more!
Give us a call for more information!
Spartan Mowers Equipment
---
KGZ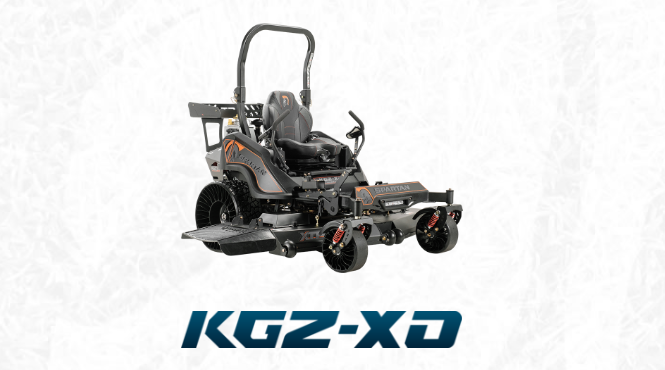 The KGZ-XD has 55+ lbs/ft of torque to maintain 18,500 FPM for a pristine cut under most conditions. Instant torque, quieter operation, reduced fuel usage, increased engine life, and so much more!
Both engine pulley diameters have been increased so that at 2,800 RPM the blade tip speed remains consistent and the pump speed allows for 15 MPH top speed.
---
KG

King of the Grass Stand-Up offerings include the KG Pro (with Parker HTE 10cc transmissions) and KG XD (with Parker HTJ 12cc transmissions) and 54″ and 61″ deck options.
With a 100-300 lb Operator Platform, dual 6-gallon fuel tanks, Parker Hydros, magnetic pin height adjustment, and the lean-in bolster.
---
SRT

Our SRT Series mowers are equipped with an improved five-layer Smart Ride Technology package for both increased traction and comfortable ride. Smart Ride Technology means five layers of comfort. Front and rear radial tires, rear suspension with custom Winamac® Coil Springs, TecsPak® underneath the seat adjustable by operator weight, 360-degree seat plate to dampen shock from all directions, and Ultra-premium Dymetrol® Adjustable 3″ Travel Seat that works like a spring and is lightweight and durable.
---
RT

The Spartan RT-Pro and RT-HD offer a dollar-for-dollar value that is a cut above the competition. The RT Series is packed with standard Spartan RT advantages that make Spartan stand out from the rest: 6″ Deep, 7-gauge XTF Deck System, GT Trac for Incline Traction, 360 Degree Seat Plate, Adjustable Steering Arms, Easy Touch Brake System, Ergonomic Cockpit, Foot Assist Easy-lift Deck, Vibration Control Deck System, a straightforward design for easy add-ons and maintenance, and state of the art push start instrument panel.
---
RZ
The RZ-C is available in a 42″ and 54″ deck size. With the same fusion welded tube frame as our bigger zero-turn mowers, the RZ-C has the same durability with a lower starting price! And, its 4″ deep deck allows it to maneuver easily in tight spaces. Available with three engine options for varying horsepower. The RZ, with 22″ Carlisle Turf Armor Bias Ply Tires and Tuff Torq 400 Transmission, is an absolute beast of a machine for residential use (and it looks great too!). Pound for pound, there's nothing in the industry that compares!

Spartan's RZ-Pro uses a new Tuff Torq 450 transmission with steel gears, a 10cc pump, a charge pump, and a serviceable filter! The high-end 22″ Carlisle Turf Armor bias ply tires improve traction both on level ground and inclines, and this unit comes standard with the Broad Beam LED Light. The RZ-HD is patterned to run with the big guys—with a 5″ deep 7 gauge XTF deck, ROPS, 22″ rear radials, and the Parker HTE 10cc transmissions, it flat-out performs!
---